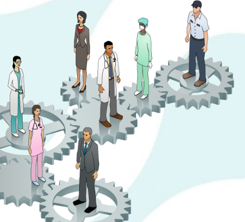 How Medical Organizations Ensure Best Business Practices
The simple and straight-forward answer is by requesting collaboration from Subject Matter Experts (SME's) and adding to your overall network of resources.  Ensuring best business practices in medicine is really all about serving patients in the best possible way.
In the world of professional insurance coverage, all medical practices have exposure to errors in both medicine and business practices.  These errors can lead to other violations with State and Federal DOH regulations.  Medical practices require many if not all of the following insurance policies to protect themselves.  Malpractice Insurance, Worker's Comp, General Liability (Business Owners Policy – BOP's), Cyber Liability, Employment Practices (EPLI), Medical Directorship, and Billing Practices.
Unfortunately, there can be critical gaps in coverage with any of these policies since they are unique with every insurer and will vary in both coverage and premium cost.
Finding and relying on Subject Matter Experts is key to covering any gaps in coverage and protecting your practice from losses that will ultimately impact patient care.
Contact an independent agent to protect your organization from potential hidden exposures and any gaps in coverage.
Aviso Insurance is an independent agency that works for YOU, the medical expert. We have access to nearly all the medical malpractice insurance markets to serve you.
"At Aviso Insurance, we are proud to serve the many heroic professionals in our healthcare community."
Office: (407) 808-6149  /  E-Mail: [email protected]