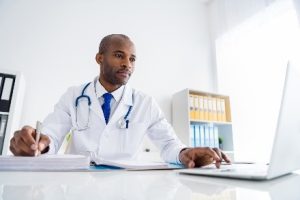 Artificial intelligence (AI) has the potential to revolutionize medical practices by augmenting healthcare professionals, improving diagnostics, streamlining administrative tasks, and enhancing patient care. Here are some of the top uses for AI in medical practices:
Medical Imaging Analysis: AI can assist in analyzing medical images such as X-rays, MRIs, CT scans, and mammograms. It can help radiologists detect abnormalities, identify patterns, and provide more accurate diagnoses.
Disease Diagnosis: AI algorithms can analyze patient data, including medical records, lab results, symptoms, and genetic information, to assist in diagnosing diseases. AI-powered diagnostic systems can offer faster and more accurate diagnoses, aiding physicians in making treatment decisions.
Personalized Treatment Plans: AI can help develop personalized treatment plans by analyzing vast amounts of patient data and medical literature. It can consider patient-specific factors such as genetics, medical history, and lifestyle to recommend tailored treatment options.
Drug Discovery and Development: AI can accelerate the process of drug discovery by analyzing large databases of chemical compounds, identifying potential drug candidates, and predicting their effectiveness. It can also optimize clinical trial design and improve the efficiency of drug development.
Virtual Assistants and Chatbots: AI-powered virtual assistants can assist healthcare professionals by answering patient queries, providing basic medical advice, and scheduling appointments. Chatbots can handle routine tasks, allowing healthcare providers to focus on more complex cases.
Remote Monitoring and Telemedicine: AI-enabled devices and wearables can monitor patients remotely, collecting real-time data on vital signs, symptoms, and activity levels. This information can be analyzed to detect early warning signs, provide proactive care, and reduce the need for hospital visits.
Predictive Analytics and Early Intervention: AI algorithms can analyze patient data to identify patterns and predict outcomes. This can help healthcare providers intervene early, prevent complications, and improve patient outcomes.
Administrative Tasks Automation: AI can automate administrative tasks such as appointment scheduling, billing, and medical coding. This streamlines workflows, reduces errors, and allows healthcare professionals to focus more on patient care.
Robot-Assisted Surgery: AI can enhance surgical procedures by providing real-time guidance to surgeons, improving precision, and minimizing risks. Robot-assisted surgery can be particularly beneficial for complex and minimally invasive procedures.
Medical Research and Insights: AI can analyze vast amounts of medical literature, research papers, and clinical trials to extract insights, identify trends, and support evidence-based medicine. It can help researchers discover new treatment options and advance medical knowledge.
It's worth noting that while AI holds immense promise in healthcare, it is essential to ensure regulatory compliance, patient privacy, and the ethical use of AI systems to maximize their benefits while minimizing risks.
"At Aviso Insurance, we are proud to serve the many heroic professionals in our healthcare community."
Aviso Insurance is an independent insurance agency that works for YOU, the medical professional. We have access to nearly all the medical malpractice insurance markets to serve you.
Dan Reale, Independent Agent/Owner – Telephone:  (407) 808-6149
E-Mail:  [email protected]